TSI Alnor EBT731/EBT731-STA Balometer Capture Hood Review
Posted on: 20 November 2013
By:

Sam
It appears that logic and common sense has prevailed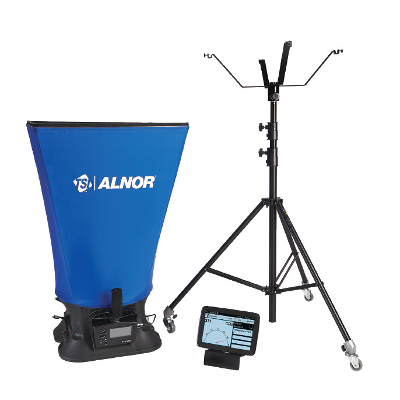 . In an announcement that seemed all too obvious, TSI Alnor has released a few new accessories for their TSI Alnor EBT731 Balometer. This includes a wheeled stand that can extend up to 15ft in the air and LogDat Mobile software that can be used via Bluetooth to operate the Balometer and see data, take pictures, record voice annotations and generate reports.
The reports can be exported as attachments via Gmail, Google Drive, or SD card. These upgrades allow you to work hands free and eliminate the need for ladders on most job sites. The tripod stand has wheels so you can easily transfer the Alnor EBT731 Captute Hood from one register to the next to make quick work of your measurements.
To take full advantage of these new accessories, TSI Alnor has released model  EBT731-STA balometer that includes the Alnor EBT731, the wheeled tripod stand and a Samsung Galaxy 2 Tablet* that has the LogDat Software preloaded.
Purchasing the EBT731-STA balometer bundle is a savings of $575! These new accessories will save valuable time and money, and I don't know a person who can argue with that.
* TSI reserves the right to change which tablet is offered when you purchase TSI Alnor EBT731-STA.
Cheers and Happy Testing,
--Sam