Fieldpiece CAT45 Combustion Analyzer Review
Posted on: 11 November 2022
By:

Brady
Comparison of Fieldpiece CAT45 Combustion Analyzer with Other Residential Combustion Analyzers.
Welcome. Today we're going to take a look at the new Fieldpiece CAT45 combustion analyzer. To start off, let's review the most exciting new features that set this analyzer apart from the pack. Then, we'll deep dive and compare it to a few of the famous competitors on the market.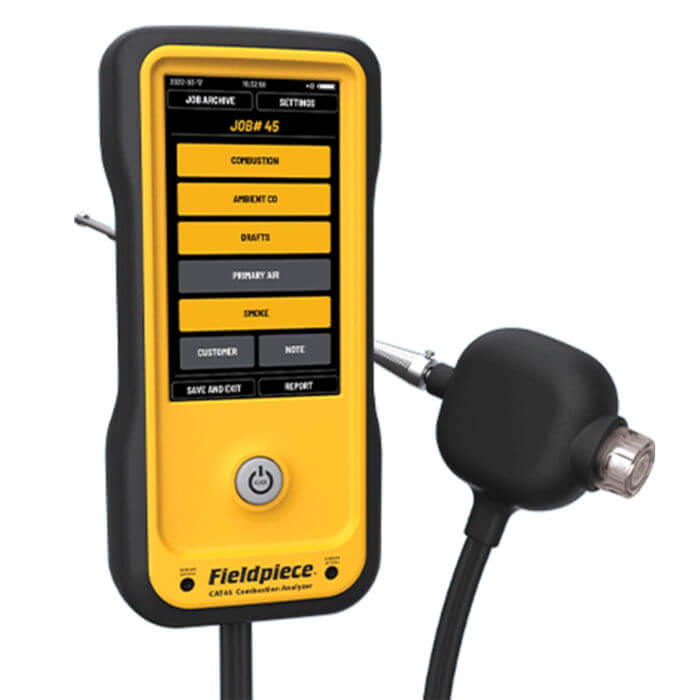 Review Summary:
For those of you in a hurry who just want the most important facts, this section is for you.
First off, I totally recommend the Fieldpiece CAT45 for combustion technicians. Fieldpiece is a brand that you can trust, and if you work in HVAC that's fairly common knowledge. There are two main selling points that I think make this analyzer a great buy.
Selling point number one is the SensorVault technology. Probably the biggest problem with combustion analyzers is that electrochemical oxygen sensors degrade with time, even when not in use because the ambient air contains oxygen. Essentially, your sensor is constantly on. The Fieldpiece Sensorvault seals off the oxygen sensor when you're not using the meter, so your sensors last a long time. In fact, they are warrantied for four years! Most companies give you one year.
The second big selling point is the bluetooth connectivity for using the Fieldpiece JobLink app. You can remotely connect your analyzer to the app and use it in conjunction with any other Fieldpiece smart probes that you have. Additionally, it's super simple to operate the app like a datalogger, giving you real time view and storing records of your combustion tests. These tests can be annotated and then emailed for your or your customers records or printing for a hard copy record.
If you want to get further into the benefits of choosing this analyzer over another option, we'll dive a little deeper in the third section.
Full Review:
Okay, let's go over the meter from head to toe, and then we'll have a look at a few competitors and see why Fieldpiece is an attractive option if you're looking for a new combustion analyzer.
As far as nuts and bolts are concerned, the most important thing to know about your job, and by extension your combustion analyzer, is the CO ranges you'll be dealing with. We'll compare Fieldpiece to the wider market in a second, but suffice to say for residential jobs and for the ones we commonly call "light commercial" you're going to want a sensor that comfortably measures carbon monoxide up to 4,000ppm. Well, with the CAT45 we're in luck because that's exactly the market Fieldpiece is targeting and so the sensor goes up to 4,000ppm. All good there.
As mentioned above the oxygen sensor is protected by their new SensorVault technology. To me, this is the most important innovation with the CAT45 and if I were Fieldpiece I'd be singing this feature from the rooftop. But I'm not their marketing department. I can however recommend the CAT45 to you in this review because of this feature. Frankly, a lot of the other features of this meter are very cool but not always unique.
There is nothing else like SensorVault on the market right now and so it's really a game changer. The biggest pain in the you-know-what as combustion tech is having to replace your O2 sensor yearly. To make matters worse, it seems like half the brands require you to send it back to the factory. This costs you money and wastes you time that you don't have your tools.
With the CAT45 you can expect the sensors to last a long time and they carry a four year warranty. And when it does finally come time to swap it out, the sensors are field-replaceable and pre-calibrated. Literally just plug them in and go. Far and away this is the best thing to recommend the Fieldpiece CAT45, in my opinion.
Physically, this thing is nice. It feels solid in your hand and the platform is designed in a similar way to all the other Fieldpiece tools. If you currently have some you'll know what I mean. And of course it's yellow. The boot is sturdy enough that I wouldn't worry about some light scrapes but I also wouldn't drop it. You'll probably be fine and they do test for a little bit of trauma but it's not that rugged that you won't mess it up if you drop it from a height. The magnets are super strong on the back so you can work hands free. It's got a touchscreen interface that's about six inches and the only button is the power button. Personally, I like this setup and if you've got a smartphone (doesn't everyone these days?), navigating the menus is a piece of cake. They designed it very intuitively. I should also point out here that you're really not going to find another touchscreen analyzer at this price point, so if that's a feature that appeals to you this meter is a no-brainer in that regard.
Speaking of smartphones, you can also view data on your phone or tablet with bluetooth and the Joblink app. Again, another undersold feature is that with app tech the way it is you basically get datalogging functionality. Time was that you had to pay a pretty penny for a datalogging device but you can easily record everything automatically with these modern app designs.
Of course, this is all a rundown of the fun features. As to actual performance it runs solidly and we were able to get all the testing done that we needed with great accuracy. Honestly,  if you buy a name brand analyzer from a trusted source you're going to get a tool that performs well in terms of its basic functions. I'd venture a guess that this is a result of liability factors in dealing with CO. You simply have to deliver a product that performs because of the personal safety of both technician and customer. So, the focus in selecting an analyzer is primarily going to come down to CO testing range for your application and all the extra goodies that make it more convenient, or cheaper to own, etc. On all these fronts the CAT45 excels and I think it's a great addition to the Fieldpiece catalog and the combustion market at large.
My only small criticism is that it's a tad more expensive than some competitors that have similar nuts and bolts performance. But, if you have the budget I'd recommend the Fieldpiece over others within a few hundred dollars price difference because of the SensorVault system. Oxygen sensors themselves for just one year make up the price difference and even worse for cost and downtime if you need to send the unit in for a calibration.
Overall, this is a fantastic tool to get your hands on. I'm not sure what the availability is like at launch but I'd guess they've prepared for it and you'll be able to check one out yourself.
Let's make some brief comparisons to other specific competitive meters before wrapping up.
Comparisons to Other Analyzers
-CO Range: For CO range the CAT45 is going to be equal or better to everything else in the price range except for some analyzers made by TPI. TPI excels at offering high range sensors at a really low price. However, the design of the analyzers leaves something to be desired and are fairly bare bones. On the strength of SensorVault alone, I'd still recommend the CAT45. If you don't need that high range, the lifetime savings in replacements makes it worth it to choose Fieldpiece.
-Bluetooth and App Functionality: The number of bluetooth enabled analyzers on the market grows yearly but still about half the market doesn't have them. I'd consider detailed reporting a necessity these days and the technology to do it affordable like never before. Fieldpeice's Joblink is, in my opinion, the best mobile app testing software out there so I'd still recommend it. The only slight edge in this area I'd give to a competitor is the least expensive meter from new-kid-on-the-block Seitron uses a pretty cool QR code workaround to offer reporting at a low cost but there is no wireless capability. So ultimately you lose the de facto data logging functionality and I'd still say go with the Fieldpiece CAT45.
-Interface: As far as I know, the CAT45 offers the only touchscreen interface in this class. Now, naturally you're going to get some detractors from touchscreen interfaces and they'll see this as a negative. I've found this comes down a bit to preference. Fieldpiece did a great job of making this screen intuitive to use and strong enough for the job site. So, if you like touchscreen operation, the nod goes again to Fieldpiece here.
-Warranty: There's no comparison here because of the SensorVault system. The CAT45 offers a warranty on sensors that is at least double every other competitor and in some cases quadruple. Clear win for Fieldpiece.
Final Summary
Again, I recommend this analyzer completely. Fieldpiece did a great job. The two biggest selling features are the SensorVault system which saves you money, prevents downtime, and enables Fieldpiece to offer you a four year sensor warranty. Also the Joblink app is the best on the market in my opinion. Overall, I don't have much bad to say about this meter. Get your hands on one for yourself and see if you agree. Thanks for reading!
For more information about Fieldpiece CAT45 Combustion Analyzer and a great pricing, follow this link.
Explore Fieldpiece Combustion Analyzers
Fieldpiece CAT45 Combustion Analyzer
Fieldpiece CAT45K2 Combustion Analyzer Printer Kit
Fieldpiece CAT85 Combustion Analyzer HydroCycle Kit
Fieldpiece CAT85K2 Combustion Analyzer Printer Kit with HydroCycle
Fieldpiece CATPR Wireless Thermal Printer