Tramex RIK5.1 Roof Inspection Kit Overview
Posted on: 25 April 2014
By:

Sam
Roof Moisture inspection is a business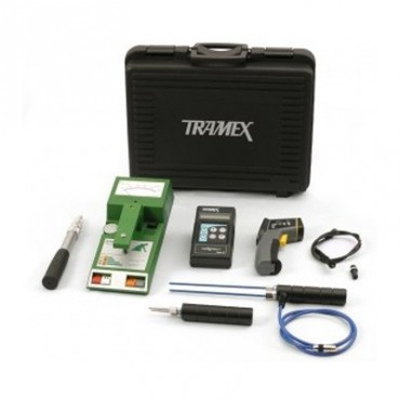 Tramex knows well. Based in Ireland, Tramex has been manufacturing moisture meters for over thirty years. Tramex has put together the RIK5.1, a great roof inspection kit that covers about all the material types you are likely to run up against. It features two great meters, one for concrete and wood applications, and the other unit for roofing and wall inspections. The Tramex RIK5.1 Roof Inspection Kit includes the following,
IRTX – Infrared Thermometer
HH14SP200 – 7" Insulated Pin Probe
HIPP-1E – Hygro-i Probe for Relative Humidity
HPW – Hole Punch
The Tramex RWS Roof and Wall Scanner is a very unique instrument that can detect moisture in specialized roofing materials. Built for use on Foam Roofs, Exterior Insulation and Finishing Systems (EIFS), as well as Built-Up Roofing and Single Ply Roofing, this meter has what you need for most roofing jobs. This unit has dual sensitivity for shallow and deep penetration up to 4". Using the RWS Roof and Wall Scanner is a cinch. For large commercial roofing systems, you can attach the telescopic rod for fast measuring and eliminates the need for bending over constantly. Before use, you would set the unit to type of material you will be testing using the color coded legend on the face of the unit. You can then go to a known dry area and adjust the sensitivity to zero to ensure accurate readings. Once you are set up, you simply make flat contact with the surface and read the analog needle.
The Tramex CMEX2 Concrete Moisture Meter is the flagship model for Tramex. It is a solid and rugged meter that takes non-destructive readings in concrete floors and screed flooring. It can also take comparative readings on ceramic tile, stone, and other masonry materials. Using the CMEX2 is about as easy as it gets. Simply power on the unit and select the material type and begin. Lay the CMEX2 on the surface and press to apply even pressure along all the electrodes. Then just read the digital display and you are all set. It really is that easy.
The RIK5.1 Roof Inspection Kit includes a few nifty accessories that help expand the capabilities and give this kit the breadth is has. Included are two different plug-in probes. The Hygro-i is a relative humidity probe that plugs into the CMEX2. The readings can be displayed in either a percentage of RH or as a mixing ration (think grains/lb or grams/kg). The other probe is the HH14SP200 Wood Pin Probe that has 7" penetrating probes. The probe is simple to use and plugs directly into the CMEX2 and is accessed by selecting Pin Probe on the menu.
All in all, a very reasonably priced kit that has a lot of tools that will get used. Check it out while it is still on sale.
Cheers and Happy Testing,
-Sam