Testo 550 Digital Manifold with Bluetooth 0563 1550 Review
Posted on: 23 April 2015
By:

Brady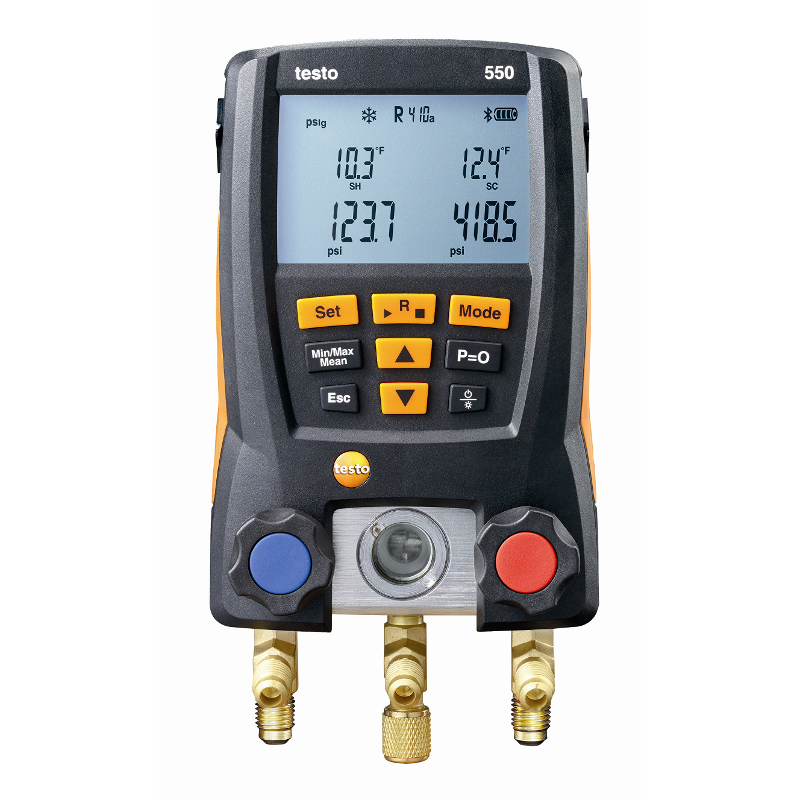 Greetings all. Today we're going to take a look at the new and improved Testo 550 Digital Manifold with Bluetooth that retains the excellent features of the old version 550 but now includes wireless connectivity and comes at a reduced price. This new version of the 550 is a great deal for customers that want to get into digital manifolds and improves upon the old model in nearly every way.
The most obvious benefit to the new Testo 550 manifold is the addition of Bluetooth communication that allows the wireless streaming of results to a mobile device for real-time analysis and storage for later reporting. This exciting feature makes it super easy to maintain a database of your work and show customers or your supervisor the work you are doing as it is happening. In addition, the new 550 features an upgraded housing that is IP42 splash proof, so you don't need to worry about the rain or any other environmental issues that might come up working in outdoor environments.
As before, the Testo 550 auto-calculates your superheat and subcool temperature (this is a big advantage that you get with a digital manifold) and comes prepacked with 60 refrigerant profiles, which can be updated further through the app integration as new profiles become available. Also included is a built-in vacuum indication and two pipe temperature clamps, giving you everything you need to work on an AC system all in one super convenient package. The LCD display is backlit for working in darker environments and the whole kit comes packaged in a solid hard carrying case.
To top the whole thing off, the new Testo 550 Wireless Manifold comes at a price almost $100 less than the old model, but includes a ton more features. All in all, this unit is an excellent choice for those transitioning to digital gauges, or those looking to update their toolkit or outfit a team.
For more information and great pricing, follow this link.
What do you all think about the updates to the new Testo 550 ? Comments below.
Until next time.