Testo 330-1G LL - Review - This Combustion Analyzer has more features for more jobs
Posted on: 29 September 2015
By:

Max
Today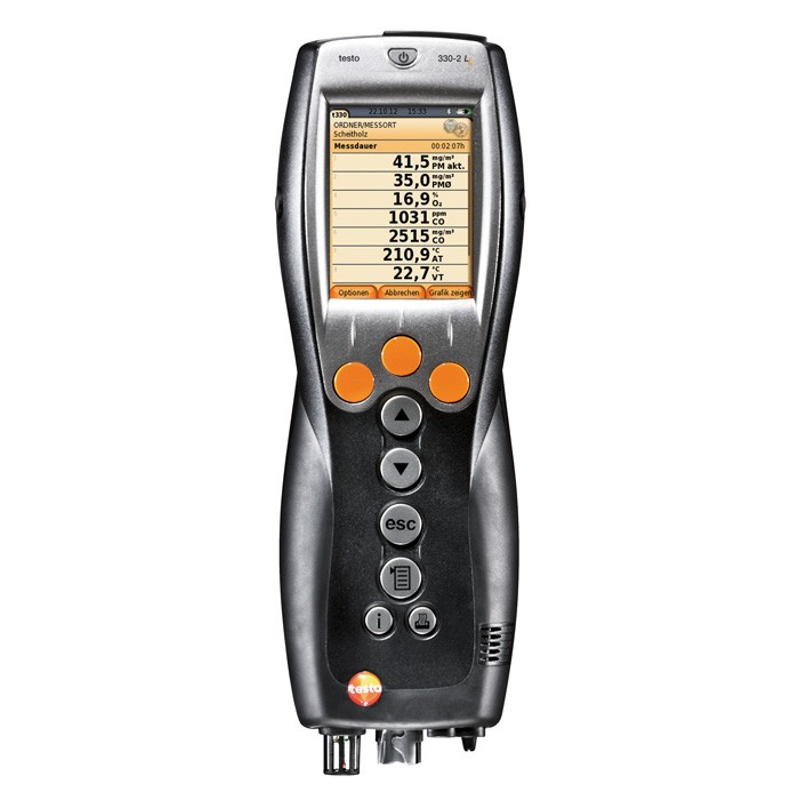 I am reviewing the 330-1G LL Combustion Analyzer with Color Graphics from Testo. The Testo 330-1G LL is designed to measure O2, CO, (NOx option), draft & temperature (ambient & flue) in addition to calculations of CO2, efficiency, excess air, and CO air free. This can be exceptionally useful for emissions monitoring, maintenance and tuning of combustion processes such as burners, boilers, diesel and gas engines, laboratory analysis, heaters, kilns, furnaces, turbines, water heaters, and more.
The Testo 330-1G LL has a high quality feel, and almost too many features to list. First, the Testo 330-1G LL has Teflon lined hoses that resist kinking, fraying, and splitting. This equates to improved longevity, fast response times, and no air leaks. Secondly, the Testo 330-1G LL has an extremely intuitive and convenient water trap design with a "full" alarm in addition to simple emptying without the need to disconnect the hoses. Thirdly, the Testo 330-1G LL has two particular features that improve the longevity of the unit and sensors: The pump shuts off if it is accidentally over-exposed and the pump auto-rinses during the shutdown process in order to purge harmful gases from the system.
The Testo 330-1G LL also features 18 pre-programmed fuels, sensor upgrades to measure NOx, datalogging up to 200 data points, 30-second start-up phase, colorful backlit display, and up to 10 hours operation via a rechargeable lithium ion battery. The Testo 330-1G LL Kit 4 includes analyzer, 12" flue gas probe, Li-ion battery with universal AC power adapter, particle filters (pack of 10), hard carrying case, NO sensor upgrade module (0-3,000 ppm, 1 ppm res.), fast IR printer, and thermal paper (6 rolls – 10 year legibility).
For more information about this exciting new unit and great pricing, follow this link.
Have you ever wondered just how efficiently your water heater is running? Let us know in the comments!