Flir C3-X Compact Thermal Camera Review
Posted on: 8 March 2021
By:

Laurelle
Flir C3-x Review | Updated February 2023
Explore Flir Rewards Promotion - Get Free Products with Your Purchase. Offer Valid through March 31, 2023.
Comparison between Flir C3-X and Flir C3 Compact Thermal Cameras.
Flir C3 is now Flir C3-x with more features at the same price. The Flir C3-x Compact Thermal Camera features: Wi-Fi and MSX Technology, Resolution 128 x 96, and Ignite Cloud Connectivity.
Pocket size thermal cameras have become a standard tool with so many professionals from electricians, HVAC, plumbers, home inspectors, even homeowners because they are affordable and have the ability to effectively inspect, diagnose, and document trouble spots.  One of Flir's popular pocket-size thermal cameras, the Flir C3 has recently been replaced with the Flir C3-X compact thermal camera imaging system with additional features designed to assist professionals.
There are several key differences between the Flir C3 and Flir C3-X models. The main one being the thermal resolution. The C3-X thermal camera offers an improved 128 x 96 infrared resolution, while the C3 only has an 80 x 60 resolution, so the newer model has about 2.5x times more thermal pixels.
What is the importance of a higher resolution?
Higher resolution means that each image contains more information: more pixels, more details, and a greater likelihood of getting an accurate measurement.
The C3-X compact thermal camera offers a broader temperature range -4 to 572°F (-20 to 300°C) compared with the C3 range of 13 to 302°F (-10 to 150°C).  In addition, the thermal sensitivity on the C3-X has improved to 0.07°C. Thermal sensitivity is the smallest temperature difference you can see with the camera. The lower the number, the better the thermal sensitivity of the infrared system. A lower thermal sensitivity is helpful for more subtle applications, like detecting moisture issues.
Another improvement in the C3-X Flir camera is the connectivity. Flir has added Bluetooth PAN connectivity as well as Flir Ignite cloud connectivity to the C3-X.  Flir Ignite connectivity can be helpful because when connected to Wi-Fi, the Flir Ignite cloud can be used to store, back-up, and organize all thermal and visual images. The user can then access the saved images using any smart device to analyze or share with colleagues and clients.
The cloud offers 1 GB of storage in addition to the internal memory that is guaranteed to hold at least 5000 thermal images compared to the 500 you use to get with the Flir C3.
The Flir C3-X housing is also improved. The old Flir C3 did not have any water or dirt protection, but the C3-X enclosure is IP54 rated, providing a high level of protection against dust and water, and designed to withstand a 2 m (6.6 ft.) drop.
The battery life of the C3-X has been doubled and now lasts 4 hours instead of 2. The touchscreen has been increased from 3" on the C3 to 3.5" on the C3-X.
The improvements on the Flir C3-X make this pocket-size thermal imaging camera even better to investigate hidden problems, document repairs, and share results with customers at a very affordable price, offering a much better value than the C3 model.
The FLIR C3-X Compact Thermal Imaging Camera is a small, simple-to-use infrared imager ideal for finding hot fuses, air leaks and plumbing issues. The C3-X camera easily fits inside a pocket or tool bag. It is rugged, drop-tested from 2m, and is resistant to dust and water ingress (IP54).
For more information about Flir C3-X Thermal Camera and a great pricing, follow

this link.
FLIR is the world leader in the design, manufacture, and marketing of thermal imaging infrared cameras and testers.
Looking for FLIR thermal cameras and meters? Browse FLIR Catalog.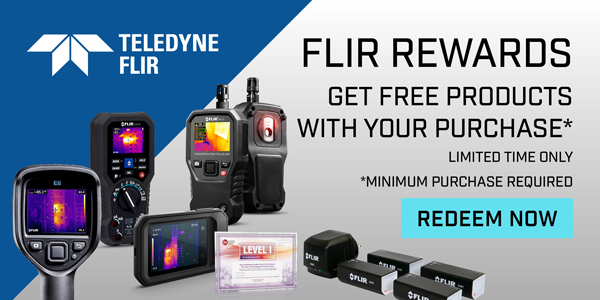 Discover Flir Rewards Promotion and get Free products with your purchase. Keep shopping FLIR instruments and get a great Deal.
Offer Valid through March 31, 2023.