Extech SDL350 CFM Thermo-Anemometer Review
Posted on: 31 March 2015
By:

Sam
Today I will be discussing the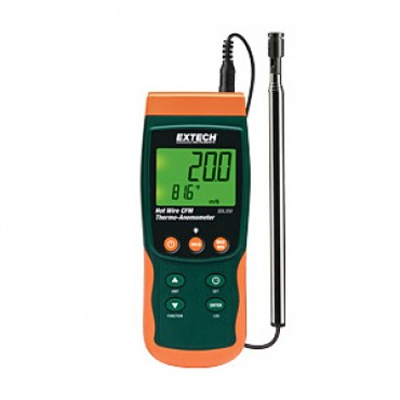 SDL350 CFM Thermo-Anemometer by Extech Instruments. With Winter slowly falling the wayside it is now time to set our attention on the coming Summer. This handheld meter is perfect for any HVAC technician looking to take quick duct measurements for Air Velocity and Temperature.
Features
The Extech SDL350 Thermo-Anemometer is relatively "bare bones" meter in that it only measures Air Velocity (40-3940 ft/min) and Air Temperature ( 32-122 F) using hot wire sensor technology. This unit can also be used to calculate the CFM reading by inputting duct size and taking a few velocity measurements of the duct.
The probe is a telescoping style that extends 3.1 ft itself but coupled with the probe wire length of 3.9 ft it gives you a total range of 7 ft from the meter itself. The meter also includes a thermocouple port for a Type K (-148 – 2372 F) and Type J (-148-2192 F) Temperature probe.
The most powerful feature you will find on the Extech SDL350 over similar Thermo-Anemometers is that it is also a data logger. This is a great feature when wanting to diagnose or to test a system and see how it is performing after a repair. A 2GB SD Card is provided with purchase and can hold roughly 20 Million records. Good luck using up all of that space! The sampling rate can be adjusted as well from 1 second all the way up to 3600 seconds.
Hot Wire Sensors Explained… (Sort Of)
To explain how a hot-wire sensor works is a bit above the scope of this review but I will give a brief overview in plain English. Inside the probe is a really thin metal wire that is kept at a constant temperature electronically. Then when air from a duct is blown onto the sensor it uses a mathematical relationship between the metals resistance and the cooling effect of the air on the sensor wire. This is then spit out onto your display as an air velocity. The same can be said of the temperature measurement. It records the rise or fall of the temperature and again uses a mathematical relationship to calculate this change in temperature as the air temperature. Wheww! That ends our class for today!
It's a Wrap
All in all this is a great meter that is very easy to pick up and start using. It is lightweight and compact which is a plus as it does not take up a ton of precious tool bag space. While every technician has a need for a thermo-anemometer, not every technician needs to have a data logger. What Thermo-Anemometer are you using? Are you using a Hot-wire only or do you also use a Vane Style Anemometer? Let us know in the comments!
For more information and great pricing on the Extech SDL350, please follow this link.