FLIR E60 – Who Needs Wires?
Posted on: 21 May 2013
By:

Brady
The Flir E60 has been discontinued. Please browse the FLIR Thermal Imaging Cameras Catalog.
Who really likes wires? They are messy, ugly, and fragile. Now, we need them for certain applications for sure. I'm not suggesting we ditch wires completely but if you ask this guy,
when they aren't necessary or an advanced technology exists that tackles the same task, who needs 'em? Enter the Flir E60 and its exciting range of wireless features.
First off, FLIR now offers its proprietary FLIR Tools Software as an App for mobile devices (iPod, iPad, iPhone, Android tablets and phones, etc.). What this means for the thermographer is that reports and records can be generated almost instantly and on the fly. Got your tablet or phone handy? Just transfer your data wirelessly from the camera to your device and show your findings to your supervisor in a matter of seconds. Welcome to the future. It's like Star Trek around here.
The other exciting feature that the E-series cameras offer is FLIR's MeterLink application. This allows you to connect via Bluetooth to a select line of Extech clamp meters (moisture, electrical, etc.) and then to store the meters' readings as annotations in your thermographic images. So you can take all your readings at once, then upload them to your device through FLIR Tools and you have a complete environmental analysis in the palm of your hand.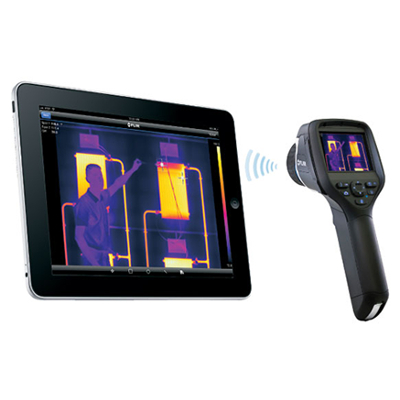 So, basically these cameras do it all. If you want a completely portable, virtually instant instrument rig, the Flir E60 and other FLIR cameras are the way to go. FLIR's technology is ahead of the pack; and let's face it, all this power in an instant is like being from the future or a wizard or something. So pickup a FLIR E-series and work your thermographic magic.