TSI Alnor AVM410 Velometer Thermal Anemometer Review
Posted on: 26 March 2015
By:

Brady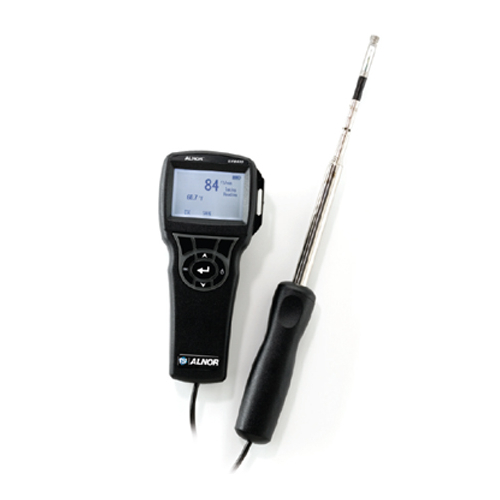 Hey everyone. Today's post will take a quick look an excellent lab-quality air velocity meter- the TSI AVM410 Velometer. This high-powered handheld unit offers a great range of features in an intuitive and convenient design.
First off the AVM410 has an extra-wide measurement range for air velocity at 0 to 4,000 ft/min (0 to 20 m/s). This blows most other velocity meters out of the water range-wise, so if you are working in commercial or industrial environments with very powerful airflow, this meter should get the job done right. The probe attachment has a heavy-duty design and is attached to the main unit for ease-of-use.
Add to this a super precise resolution of 1ft/min and an uncompromising plus/minus 5 ft/min accuracy and you can get some of the most exact air velocity readings possible in the AVM410's price range.
The AVM410 Velometer also takes temperature readings over a range of 0 to 200°F (-18 to 93°C) which makes this meter idle for commissioning work and all around HVAC tuning, as well as factory and plant maintenance operations. All of these results are displayed on crystal clear large LCD display.
Additionally the TSI AVM410, like all high-precision TSI instruments, comes standard with a NIST calibration certificate at no extra charge. This makes the meter ideal for technicians working in situations that need proof of calibration for insurance reasons or to meet established standards. All-in-all, if you need a super-precise pre-calibrated air velocity instrument, you really can't go wrong with the AVM410.
For more information about this exciting new unit and great pricing, follow this link.
Any thoughts on the benefits of having a NIST calibrated instrument versus the standard factory calibration?