Bacharach ECO-2020 Refrigerant Recovery Machine Review
Posted on: 3 August 2015
By:

Sam
The summer season is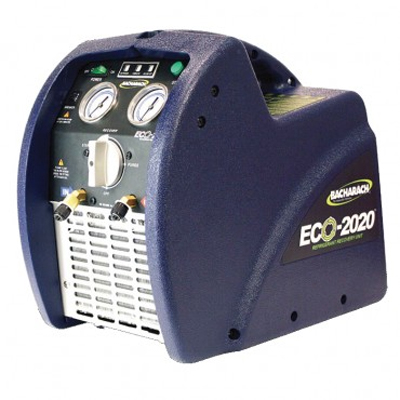 in full swing and refrigerant recovery is the name of the game. Bacharach is no slouch in this category and the ECO-2020 Refrigerant Recovery Machine is the proof in the pudding as it were. This unit boats a powerful 1 HP 2-cylinder oil-less compressor that gives it quiet running performance. As with most recovery machines today, this unit is compatible with all category III, IV and V refrigerants and can also be used for R410a liquid and vapor. The Bacharach ECO-2020 Refrigerant Recovery Machine also features an integrated purge function that reduces the risk of cross contamination and loss of refrigerant. While not included in the base unit, there is the option of adding an 80% shut off valve to this recovery machine to eliminate overfill. This refrigerant recovery machine also weighs in at 28 lbs making it very light and includes a nice shoulder strap for easy carry up a ladder. Complete with a 12 month warranty, the ECO-2020 refrigerant recovery machine is perfect for any hvac technician.
What feature is the most important when deciding on a refrigerant recovery machine?
For more information and pricing on the Bacharach ECO-2020 Refrigerant Recovery Machine, please follow this link.