Inficon Vortex AC Refrigerant Recovery Machine 714-202-G1 Review
Posted on: 5 June 2015
By:

Sam
Today I will be reviewing the Vortex AC Refrigerant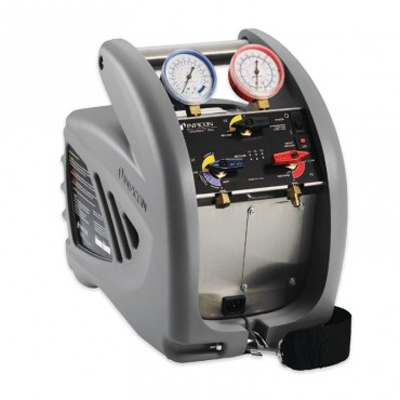 Recovery Machine by Inficon. Recovery machines are essential tools that every HVAC technician needs and already has in their tool chest. This recovery machine features an industry leading 3 year replacement warranty and is proudly made in the USA. The 714-202-G1 Vortex clocks in at 27lbs and has a textured reflective handle that stays cooler when in direct sunlight. This makes for an easier day at the office during those hot summer temperatures.
The compressor features ceramic bearings that provide superior improvements to the life of the machine as well as the recovery rates. The Inficon Vortex Recovery Machine is powered with a ½ HP Motor and oil-less compressor that gives it impressive recovery rates. There is also a safety turn off feature that is activated when pressures of 550 psi or above are detected to help protect your investment. A Large rear mounted fan keeps the unit cool even during the hottest summer days. An optional overfill protection device (Inficon Part Number 708-203-G1) is available and simple to install.
With summer already upon us, now is the time to make sure all of your equipment is working properly. The last thing you want is to be on a job and then find out your equipment has failed. If you find yourself in the market for a new recovery machine, the Inficon Vortex AC Refrigerant Recovery Machine is a great place to start. Do you currently own Inficon Products or are looking into a new Recovery Machine? Let us know in the comments.
For more information and pricing on the Inficon Vortex AC Refrigerant Recovery Machine, follow this link.