Bacharach 24-8518 - We Offer 2nd Day Free UPS Shipping for Fyrite Insight Plus Combustion Analyzer
Posted on: 31 August 2015
By:

Grace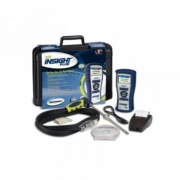 Bacharach Insight Plus 0024-8518 Combustion Analyzer delivers Five Tools in One, and includes Tune-Rite On-Demand HVAC assistant with over 22 appliance/fuel combinations and new Reporting App functionality.
The Bacharach Insight Plus features O2, B-Smart CO (0-4,000 ppm) with integral temperature, draft and pressure, plus 9 selectable (+2 custom) fuels, High CO shutoff/protection, Self calibration with easy access to B-Smart Sensors, User diagnostics and calibration reminders, and O2 sensor life indication. Bacharach Insight Plus comes with 3-year O2 sensor warranty, and hard carrying case, rubber boot, probe, and 4 "AA" batteries.
Why Bacharach Fyrite Insight Plus is a Smart Choice to Buy? The Insight Plus models offer: B-Smart Field Replaceable Sensors,  Easy to Operate and Intuitive Menu System, Troubleshooting Help with Tune Rite Software, Wide Range of All Residential to Light Commercial Applications, Instant Explanation of Results Provided by Tune Rite Software.
 Cheers and Happy Testing,
Grace